Hardly a day goes by when one doesn't hear of a girl molested, harassed or raped. It's an extremely sad state of affairs, but true nevertheless. In the city where thousands marched to support Nirbhaya, women's safety continues to be a huge issue, and this Twitter thread recounting the harrowing experience by a girl in Delhi-NCR proves yet again why. Megha, who is doing her Master's in Electronics, took to the micro-blogging site to share a scary incident that happened to her at the Golf Course Metro station in Noida.
In a series of tweets, Megha claims that she was waiting outside the station for her parents to come pick her up around 8pm on Sunday (May28), when a suspicious-looking man seemed to stalk her. She immediately sensed something was fishy and tried to avoid the man, but to little avail. What was even more ridiculous was the apparent reaction of the security guard there as well as onlookers.
Read what happened in Megha's own words here.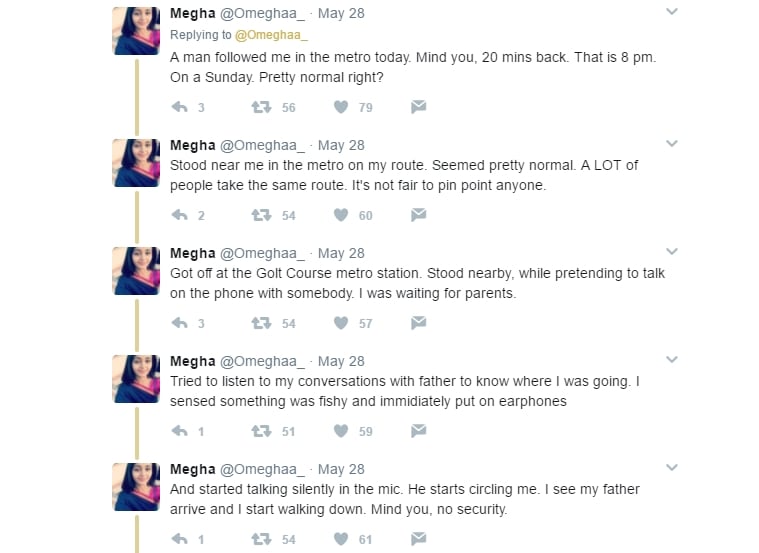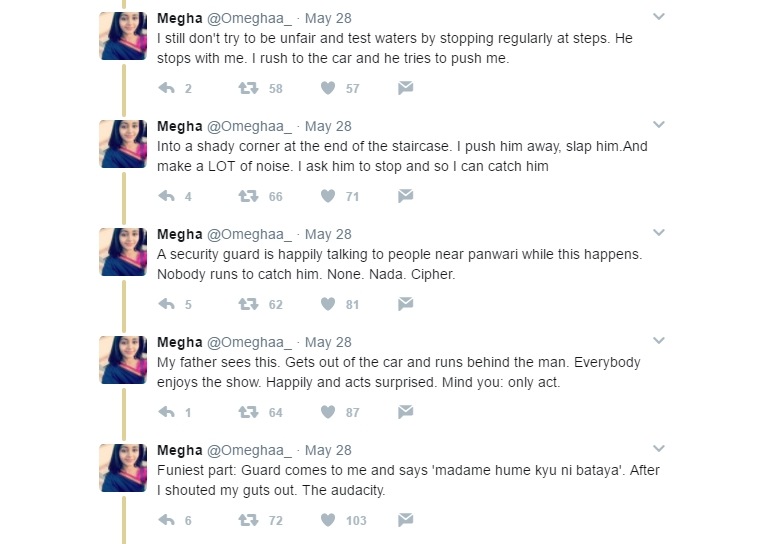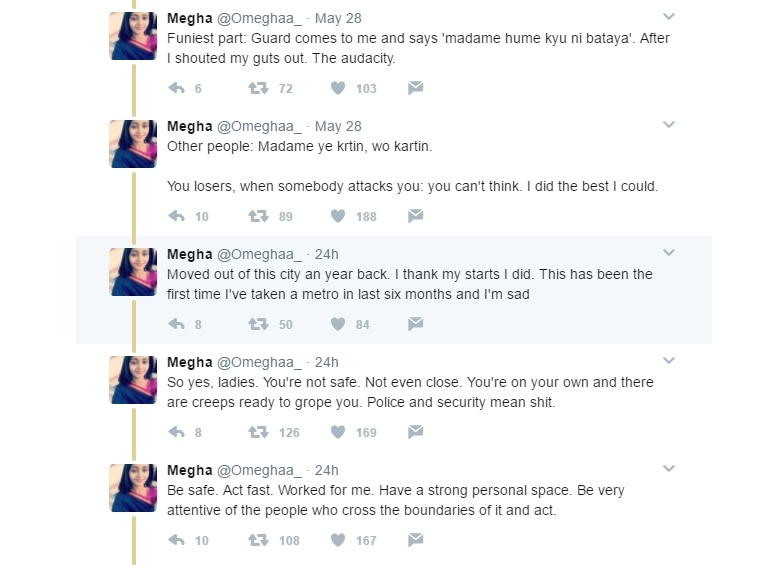 Speaking to Quint, Megha said, "I realised that what happened today could have happened to anybody and could have been worse. I was angry at how inefficient the security arrangements are. How weak a woman can get in such situations and how easy it is for these creeps to take an upper hand. People who refused to nab the guy came to me and said 'Madame aap report kardo, Madam aap pakdo isse'. All this while my father was still trying to chase him! The helplessness that my family and I have gone through while being surrounded by a crowd is what prompted me to put up this Twitter post."
In the meanwhile, Megha's post is creating a lot of buzz online. People have been responding to her narrative with compassion and concern. While some agreed with her despondency regarding the state of women security, others urged her to make a formal complaint. Read some of the reactions here.
indianexpress.com has approached Megha for a comment.
http://indianexpress.com/article/trending/trending-in-india/girl-tweets-about-delhi-ncr-metro-security-harrowing-tale-4679807/