The first month of college is life-changing for any fresher, but for some teens in Delhi, it's an epochal moment packed with the aspirations and concerns of entire families, who have pledged everything they have on a college degree.
These are the Slumgrads of Delhi – teens whose parents are daily wage labourers and whose days in college go far beyond attending lectures interspersed with 'wassup' conversations at the campus canteen.
When NDTV met with 30 of them on a Thursday afternoon, they were not done just with the day's classes, but also the odd jobs they work to afford their education. Some temp as clerical staff at embassies; others said they wait tables. It's all worth it to take their place in some of the country's finest colleges like Lady Shri Ram.
Nearly all said their early morning start included cooking for their families to contribute to a home that is making do without the full-time salary they could deliver if they skipped college altogether. None of the 30 students come from homes that have a toilet, running water, or more than a few hours of electricity every day.
"Our home gets water only once a week for an hour, so we really have to keep running over to fill buckets," said Jesus and Mary College's Saranya, in perfect English. "That day, I miss my classes, because the water supply can begin at any time." But,  she tells NDTV, she doesn't feel out of place among far richer classmates. "Initially, I felt that I live in a slum so they would be wary, but I don't think anyone cares."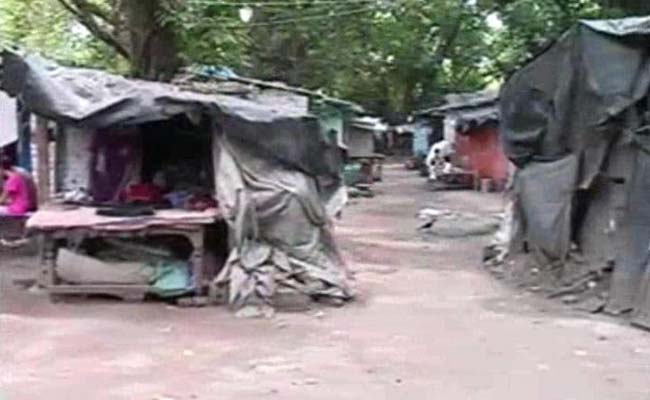 A number of the students come from localities like these, where even water and electricity are not easy to come by.
She is one of the fortunate ones. There are others who feel the class divide much more. "My classmates all have cars, while we are still struggling with bus fare," said Chandan, who studies in Venkateswara College. "They wouldn't speak to me earlier." Then he hit on a winning formula. "Now they do, because I have been topping my class."
Chandan, Saranya and the other slumgrads are in college thanks to the unabated impetus from an NGO called Asha, which helped them with their education, getting financial help and counselling. But it's hard to sometimes convince families to allow a teen to broaden horizons beyond an area where cooking, studying, sleeping and lounging are explored in a single room.
"People can't figure out why I want to go to college," says Rekha. "My parents still don't support it, but I won't give up. It is a mindset problem." Her brother and she held coaching classes for younger children in their neighbourhood to pay Rs. 10,000 rupees as her tuition fee.
"My father has taken two jobs," says Ajay, the son of a gardener. "So, I want to also help him. Before I come to college every morning, I do gardening too."
It is these stories of where they come from that left them determined to cross over to the other side. "You know why I am going to college?' asks Deepak. "My  father is a hawker, and one day, this policeman was harassing him. My father only had Rs. 100 rupees and if he handed it over, that would mean we would get no dinner. The policeman slapped my father. That's the day I decided I had to do something."
Sunil Kumar grew up in the slums of RK Puram in Delhi. He graduated  this year with a BA, and has now moved his family, thanks to his job, to a two-bedroom apartment. "Our family of four had one room… We  live in two rooms now."
An extra room, symbolic of the world that has opened up
http://www.ndtv.com/india-news/delhi-s-slum-grads-offer-stories-of-inspiration-and-heartache-1207297