A host of factors, from stubble burning to industrial emissions, come together to fuel Delhi and north India's notorious smog cover.
New Delhi: The Supreme Court's ban on firecrackers in Delhi and the National Capital Region at large was most welcome, but satellite images show that the smog cover that drove the decision enveloped the Capital long before Diwali festivities kicked in.
A host of other factors, including stubble burning and industrial emissions, came together to fuel heavy pollution in the Capital and adjoining areas over the past two decades.
A NASA study of satellite images from north India, taken over a period of 48 hours from 30 October to 1 November, showed significant stubble burning in Punjab and Haryana. Stubble burning is a process where the residual stalks of paddy/rice are set on fire during the harvest season to clear the fields for the next round of sowing.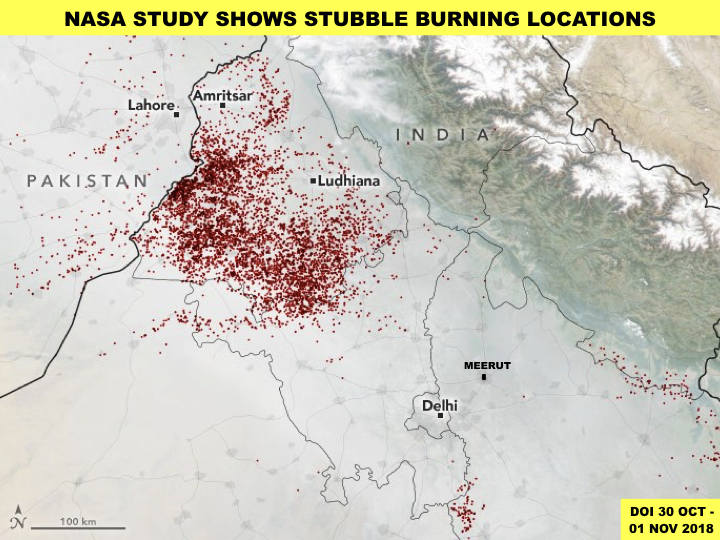 The study was made possible by Suomi NPP (National Polar-orbiting Partnership) satellites through the Visible Infrared Imaging Radiometer Suite (VIIRS).
An image released by NASA to show active stubble-burning sites exposes the deep prevalence of the practice despite the National Green Tribunal's 2015 ban on it.
The smoke thrown up by the stubble burning has a direct effect on not only north India but also central and south India, as the harmful gases and particles from the fires float hundreds of kilometres.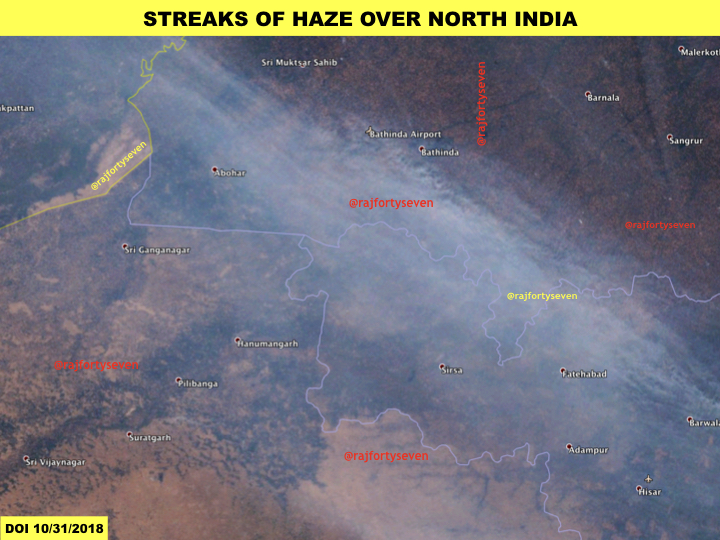 According to the NASA study, which also factored in trends from the last 20 years, "the fire counts are rising, and so are particulate matter (PM2.5) levels in New Delhi".
ThePrint evaluates the situation through commercial and NASA satellite imagery captured during the last week of October and first week of November this year.
---
Also read: Ban on sale of crackers: SC picks public health over cultural practices
---
Satellite Images
The visual range of satellite data allows one to understand the recent pollution problems of north India on account of the harvest season as well as Dussehra and Diwali.
High-resolution satellite images of Delhi's northern parts from the end of September 2017 show how smog triggered by industrial pollution hangs over the city almost every day of the season.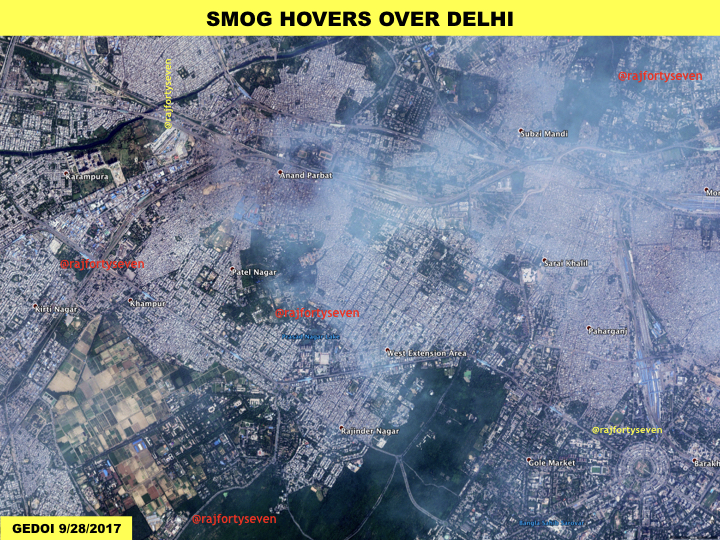 The comparison of various images from the last week of October and first week of November 2018 — the harvest season for rice/paddy in Punjab and Haryana — shows us how it has affected the capital and its surrounding areas adversely.
The images, in fact, show the entire swath of land from Pakistan's Punjab to Indian Punjab, Haryana and Delhi under a huge cover of smog.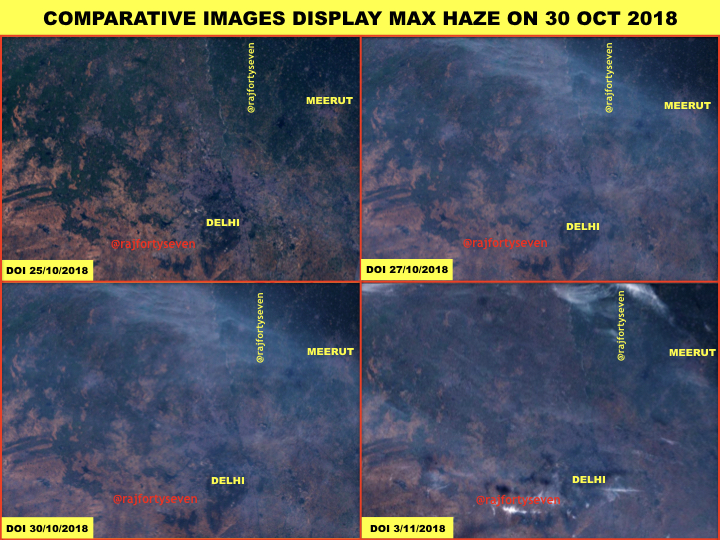 Meanwhile, in the wake of Diwali, the secondary organic carbon (SOC) levels in particulate matter seem to have gone up drastically, with firecrackers worsening the stubble burning pall of smoke.
https://theprint.in/governance/satellite-pics-show-crackers-are-only-tip-of-the-iceberg-when-it-comes-to-delhi-pollution/146718/